Category

Tags

Street Address

P.O. Box 1691

City/Town

Arusha

State/Region

Tanzania

Phone

+255 (0)755 876 888 , +255 (0)787 876 888

Mobile

Email

Skype : serengeti.big.cats.safaris

Website

www.serengeti-big-cats-safaris.com
Overview
Serengeti Big Cats Safaris Ltd
---
SERENGETI BIG CATS SAFARIS LTD
P.O. Box 1691
Arusha, Tanzania
– TALA Licence n 1189 –
Tel :  +255 (0)755 876 888 , +255 (0)787 876 888
Skype : serengeti.big.cats.safaris
Welcome by Serengeti Big Cats Safaris, tour agency in Tanzania.
Created in 2004, Serengeti Big Cats Safaris is a fast growing Tanzanian travel agency and safari company based in Arusha. We organize safaris in all major national parks of Tanzania, as well as beach vacations on the island of Zanzibar.
We own well-maintained 4-wheel drive vehicles such as Toyota Landcruisers equipped with VHF radio. Each safari is leaded by a professional english speaking guide who owns enough ability and experience to answer any question about fauna and flora of East Africa.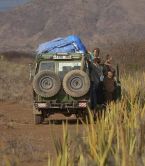 Thanks of our best aknowledges of the country, we are proud to offer our greatest ever programs of active, outdoor holidays for adventure-minded people of all ages to let you discover a more authentic Tanzania.Thus, we are able to guaranty a quality service to your full satisfaction at the best price !
Independently of your choice of travel or photo safari, trekking holidays, cultural travel, family adventure holidays or beach vacations, in outdoor camps, on private sites or in exclusive lodges, Serengeti Big Cats Safaris will offer you a tailor-made journey to your entire satisfaction.
The boundless wilderness and big game of Tanzania has long attracted adventure seekers from all over the world. No other african country presents such an incredible range of landscapes, unique geographical features and species like Tanzania.
Join Serengeti Big Cats Safaris and discover the true sense of african wildlife, meet the masai people and climb the Kilimandjaro mountain or follow the route of spices on the famous island of Zanzibar ! Enjoy Tanzania !